A beautiful hairstyle not only helps you to renew your look, but also gives you more confidence. Changing a trendy and appropriate hairstyle is not a bad idea. If you have no idea which hairstyle to try on, here is the list of 10 latest trendy hairstyles in 2021.
How to have a beautiful hairstyle?
The concept of beauty has no limits. However, to put it simply, beautiful hairstyles are the right hairstyle for you. And it should help you improve your self-confidence. A beautiful hairstyle doesn't have to be too special or attractive. It can be very simple but sometimes becomes the most powerful weapon of any woman.
Trend of beautiful hairstyles 2020
1.   Layered medium wavy hairstyle
This hairstyle is one of the exotic beautiful hairstyles., making women who have it look really high fashion. This hairstyle is especially suited to light hair colors. So, if you want to be different and outstanding, you can try this hairstyle right away!
2.   Straight shoulder length hairstyle
With the haircut of shoulder length, you will look much younger than your age. This haircut is also easy and cheap to have. Although it's a simple hairstyle, it'll never go out of fashion.
3.   Princess wavy hairstyle
Maybe any girl wishes to transform into a princess in fairy tales at a very young age. Well, so the princess wavy hairstyle will have you feeling like royalty. This kind of hairstyle will make you look more gentle and girly. You don't have to dress up like a princess to try on this hairstyle as it's very versatile.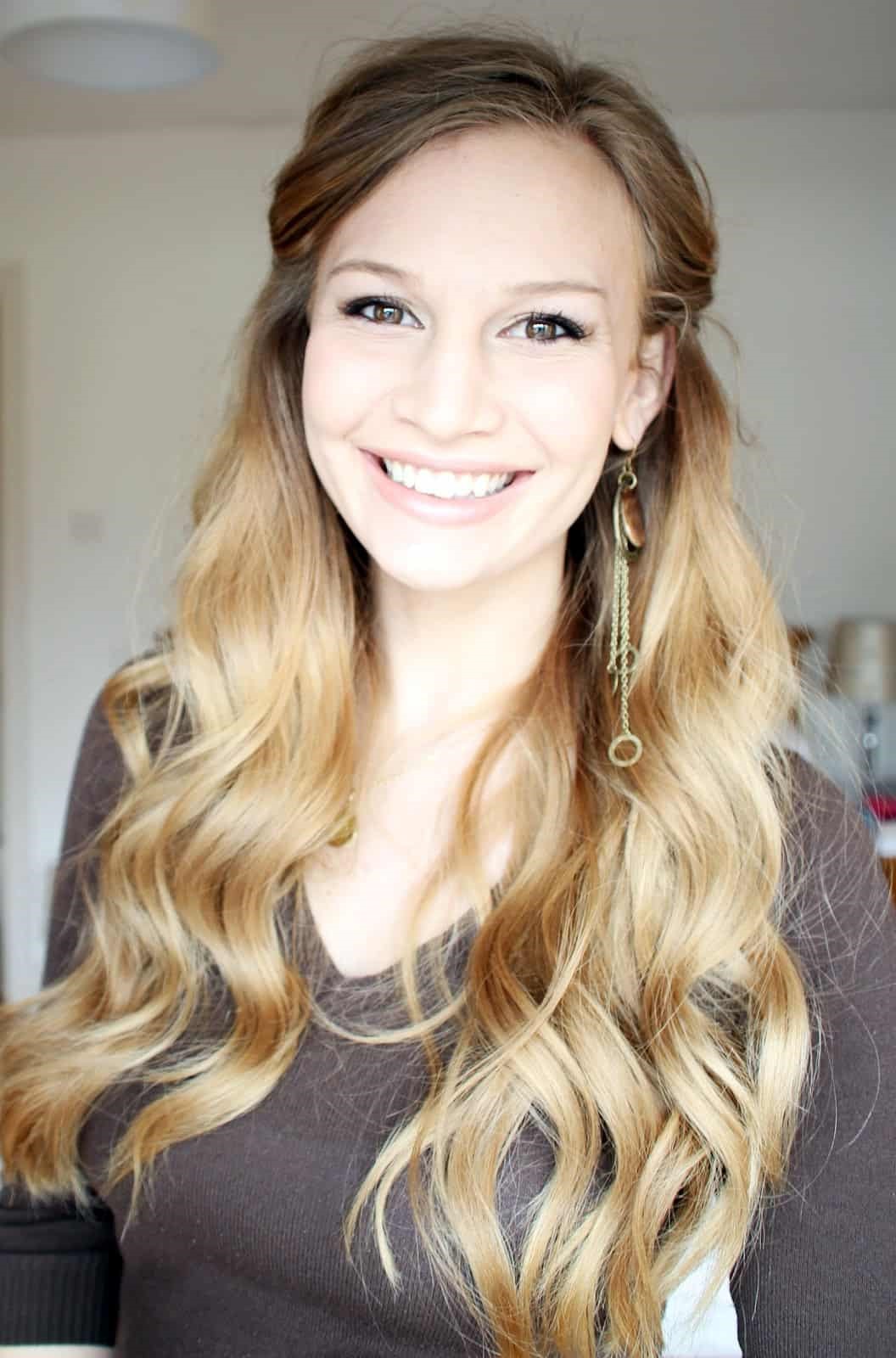 4.   Full-frontal Layers hairstyle
Full-frontal layers hairstyle has been one of the biggest hairstyle trends for more than 2 years. It features the interwoven of hair layers. Thus, it is considered as the perfect cure-all for those with thinning hair. With this haircut, the hair looks much flatter and thicker. In particular, it allows you to remove damaged or less beautiful hair skillfully.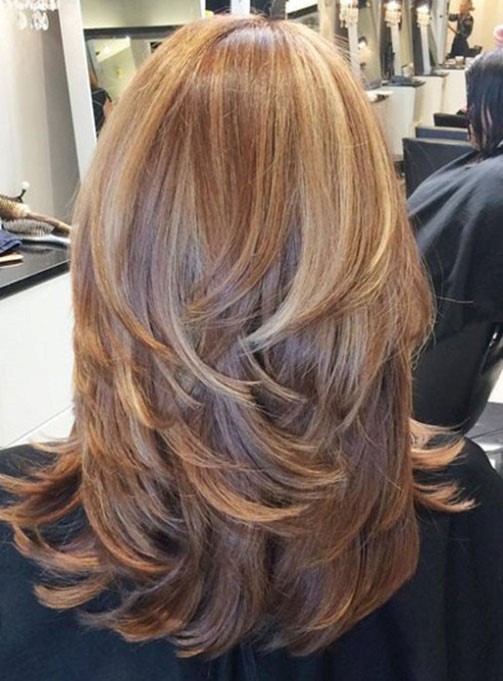 5.   Retro bob hairstyles
This classy vintage haircut has finally returned.
The retro bob hairstyle with the short hair length features an ideal shortness, though it's not special, it will give you a gentle and girly look. Retro bob is being loved and tried on by many girls. Not only does it make you more comfortable and cool, but this simple short bob hair also makes you surprisingly fresh.
6.   Straight bangs
Straight bangs have been on-trend since thanks to Lisa – a member of BlackPink (Korean girl group). There are 2 varieties of straight bangs: Blunt, straight-across bangs and thin bangs.
Blunt, straight-across bangs: straight-across bang is the oldest and most classic version of bang, also the type that people often think of first when it comes to straight bangs. Straight bang covers the entire forehead, with a little length or across the eyebrows, cut straight or bent slightly according to the curvature of the eyebrows. Though it is classic and less new, straight bang is still very popular due to the youthful look it brings to the look. For women with long face shapes and large forehead, this is an extremely ideal type of bangs.
Straight thin bangs: An improved version of traditional straight-across bangs has been a favorite hairstyle for women so far. With the same length to the eyebrows, but the thin bangs do not cover the forehead completely, giving an airy feeling to your face. Fortunately, thin bangs fit almost face shapes, it's one of the age hack tips for women.
7.   Layered V cut hairstyle
This is a trendy hairstyle and is extremely popular with young women.
Busy women, who have little hair care time, this hairstyle is very suitable: simple but attractive.
8.   Light messy waves hairstyle
Short, messy waves hairstyles will make you look more glamorous and unique. This is a hairstyle that perfectly shows off the balanced oval face. Applying some makeup will help you get the classy look like Hollywood actors and idols. Beside that, wear some accessories such as large earrings.
Lob hairstyle
Straight lob or long bob – another variation of short bob but slightly longer. Lob hairstyle features shoulder-length, so it is often referred to by a more friendly name than shoulder-length hair. Lob hair is considered a popular short hairstyle, but still enough to give the owner a striking appearance.
Lob hairstyle is expected to be the "dominant" short female hairstyle this summer. Whether studying, working, traveling or going to a party, lob hairstyles are always fashionable, suitable for all circumstances.
10.                Fun beach wave hairstyle
Fun beach wave hairstyle brings you a youthful and gentle sense.
This is a simple hairstyle but quite popular, it can be combined with many different types of clothes, from simple T-shirts to sophisticated sophisticated outfits.
Get new hairstyles in just one minute
Wigs appeared quite long ago many centuries ago and they are still used by many people nowadays, such as celebrities and models. Due to wigs' long-history existence, we can see the importance and benefits they bring. In addition to the task of changing your style after wearing, wigs are great to cover up defects on the head, sometimes they surprise you.
Wigs are now very different from the past, talented manufacturers have created fashionable wigs with rich colors, diverse types to meet all the needs of human needs.
Lace front wigs: quite beautiful attracts a lot of young people and middle-aged people. They are willing to spend a large amount of money to own the wig they love. The wig industry is on the rise, every year, countless whole head wigs, half head wigs, wig hair clips, extra effort wig, tied wig … are released every year.
Closure and bundles: When wearing a closure and bundles, people can solve the shortcomings that we often have such as: bad hair, a lot of gray hair, thin hair, too short hair, baldness. There are many types of closure and bundles for you to choose: straight bundles with closure, remy human hair top lace closure, …
Hair topper: wearing them makes your hair look more and fuller. So, depending on the purpose of use, we choose the appropriate hairstyles
All above are some famous hairstyles in 2021 we want to recommend all of you. Do not hesitate to contact us to have more latest news about hair care, hairstyles and hair business.
Email: messihairvn@gmail.com
Address: No. 1, Thang Long Mainstreet, Nam Tu Liem, Hanoi, Vietnam