Are you sure you are using wig without wig mistakes? Nowadays, many people prefer using wigs because of its convenience and saving time. Besides, it also helps users avoid the risks of cutting hair. However, not everyone knows how to properly use, care and preserve a wig. As a result, wigs are often damaged after a period of using or the lifespan of the wig is reduced. Here are some common
wig mistakes
you should be aware of when using it.
Wig mistakes – When buying wigs
Wig size is chosen wrong
If the size of your wig is bigger or smaller than your head, it both makes you inconvenient. When the wig size is bigger, it may slide off. On the other hand, the smaller wig may be too tight with your head, causing uncomfort and headaches.
Wig mistakes – Choosing hair density improperly
We always want to have a wig which is as natural and realistic as possible. So if you have lost all your hair you take part in the entertainment, let's choose a heavy density wig. If not, let's choose a suitable density wig as a heavy density wig will make your hair less natural and your outlook will be affected.
Mistakes in wig's using process
Improperly wash wigs
Washing your wig regularly is extremely important for your wig. However, not all of us know how to wash a wig properly. And the result is our wigs get damaged because of being washed in the wrong way. Therefore, we need to wash the wig both regularly and correctly to maintain and lengthen its longevity.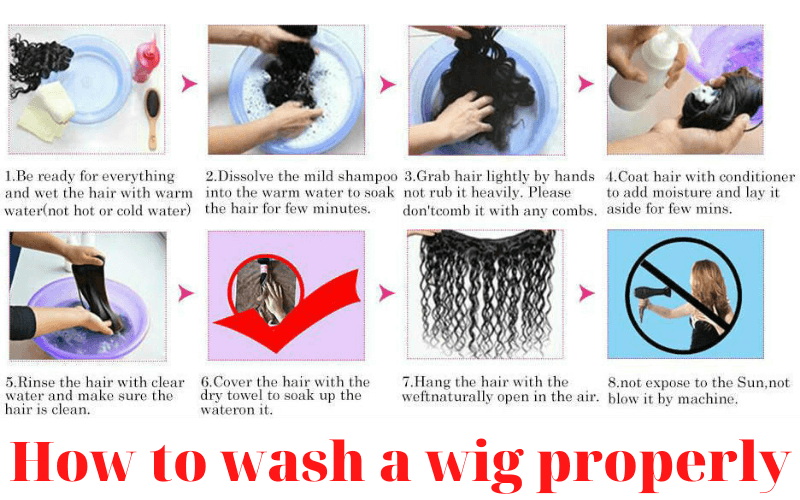 =>>>8 mistakes when washing a wig at home you should know
Wig mistakes – Apply to much heat tools on the wigs
There are many kinds of heat tools today and using it too much can damage our wigs. The hairdryer, curling iron, flat iron and so on also affect negatively on our wigs. If we use these products, the heat from it is not good for the wig. Therefore, we should use the heat tools as little as possible to prevent causing
wig mistakes
.
Wig mistakes – When storing wigs
Preserve the wig without cleaning it before
Preserving the wig without cleaning it is similar to putting the dirty dishes and chopsticks back in the cupboard, it will become dirtier than before. Thus, when we store the wig without washing or cleaning it, it will also get dirty. Furthermore, it can create mold, bacteria, etc. Therefore, in order to maintain the wig hair, you need to clean it before storing. One more important notice is not to let your wig get wet when storing it. When you store your wig that is still wet, it will absorb mold, dust, and so on. This is one of the common
wig mistakes
when using wigs that you should avoid.
Wig mistakes – Store your wig in direct sunlight
One of the
wig mistakes
when using it is not storing your wig in direct sunlight. Because direct sunlight will make your wig fade as well as weaken the hair strands. If the wig gets too much heat, it will begin to go out of use. Therefore, be careful and store your wig in a cool, dry place!
Lately are common mistakes when using wigs that you should be aware of. Hopefully this article provides you with useful information as well as helps you avoid mistakes when using wigs. If you have any questions, please contact us via the information below. Website:
messihair.com
Fanpage:
Messi Hair
Tel:
(+84) 973.522.855
Email:
messihairvn@gmail.com
Address:
Room 703, CT3B Building, Me Tri Thuong, Nam Tu Liem, Hanoi, Vietnam