You are so bored with your natural hair? Do you want to change your hair style? Messi Hair will bring you top 3 Hair dyeing styles which are so famous for girls and women in 2021 In 2020 and early 2021, the international hairdressing market always has new changes as more and more beautiful hairstyles are welcomed and done at the salon. Possessing beautiful healthy hair and embellished with favorite colors will make you unable to not love yourself every day. To help you prepare to dye your hair or intend to change your hair color, here are some of the
hair dyeing styles
trending in 2021 that you can not ignore.
Hair dyeing styles – 2-tone hair
Since being promoted by Jennie, this hairstyle has become a trend in the young world and has not shown signs of cooling. It is becoming a new trend in female hair coloring. Instead of dyeing full hair with one color, we will make it different with 2-tone hair for each part of the hair. This hairstyle not only makes you more dynamic but also follows the trend in
hair dyeing styles
nowadays.
Cosmopolitan magazine has suggested pink-orange color for the girls to create a warmer feeling for the winter. Alternatively, you might consider dyeing purple or lavender yellow. Those are two-tone hairstyles suggestions from Cosmopolitan, you can still choose and follow your favorite color tone. Just feel free, out of the way and be confident in yourself with this fashionable hairstyle.
Dyed leave the black groove
Dua Lipa is considered "the queen of hair color of the year 2020". She constantly changes her hair color, with many different styles and colors. However, the grooved dyeing pattern still leaves the most impression. If you want a unique hairstyle, you can do it this way. However, you do need to take care of your hair, as sticky hair will make you look sloppy.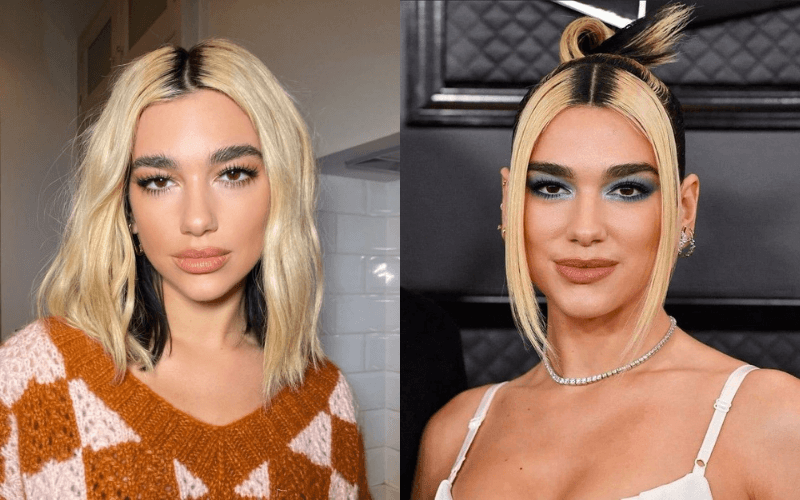 With this hairstyle, you will not have to worry about hairline lengthening after dyeing and having to redye hair color too much. Because basically this dyed hairstyle has created an accent with the hairline in the center. Do not hesitate to apply this haircut right away to start a wonderful 2021 year!
>>>The best colored hair made from 100% Human Virgin Hair
Hair dyeing styles – Highlights
Highlight is not a new type but it proves the charisma when it helps people to show their luxurious aura and personality. One of the advantages of highlighting dyeing is to make the hair stand out. No matter how dark the background, there are beautiful highlight hairs that create a highlight. This is also a great beauty idea in case you do not want to bleach full hair or change existing hair color but still have a new outlook.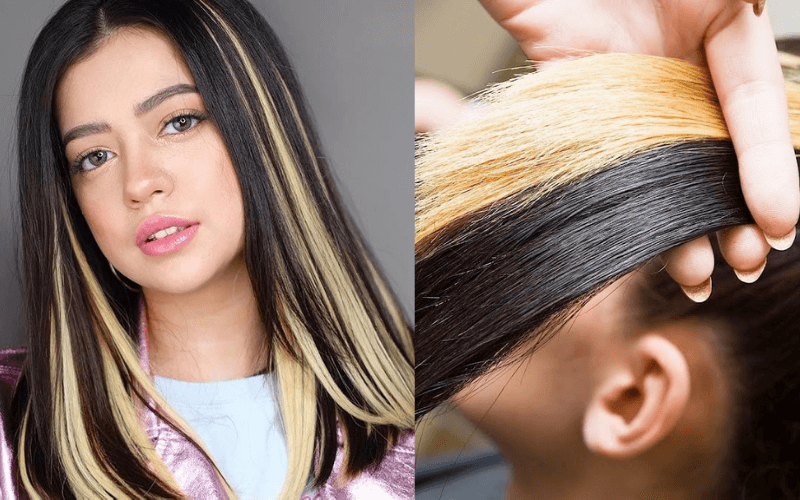 One of the most special
hair dyeing styles
is hidden highlight hair. This is the top hairstyle in recent years that makes women fidgety because it is too cool and unique. The gentle exterior inside the personality are the phrases used to describe the quality of this highlight. With this dye, the hair is divided into two parts, the inner layer and the outer layer, the two layers of hair will be separated by different highlight colors, creating a fancy yet attractive impression.
>>>How to maintain the hair after dyeing
All the above are Top 3 beautiful
hair dyeing styles
in 2021 that we want to show you. We hope that you can find out a suitable style for yourself and feel pleased with it. If you have any questions, please contact us via the information below.