Are you bored of those same old wigs of yours, but have no space left to store new ones? If you respond yes, you are in the right place! Below are some useful tips on
how to style a wig
effectively and beautifully from
Messi Hair Extension
.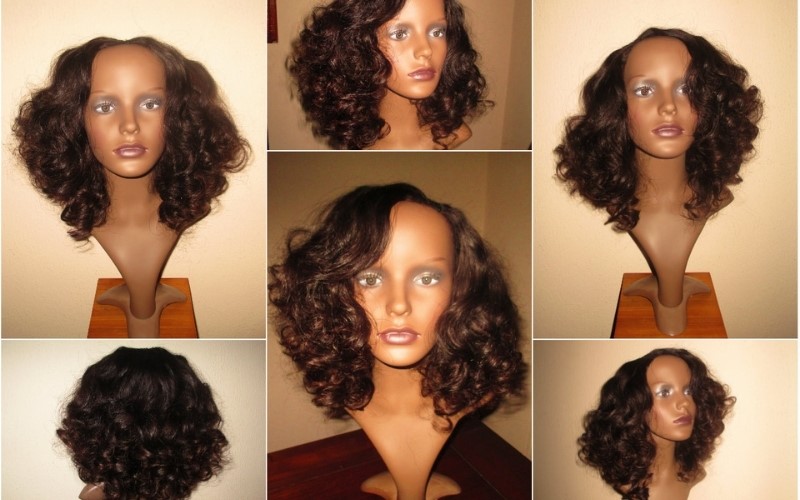 View 101+ Styles of wigs and hairpieces in 2021
1.   How to style a wig made from synthetic
TIP 1
: Make sure your wig is completely dry before you style it. Otherwise, the weight of water can stretch the artificial fibers, straighten the curls as well as ruin the style pattern.
TIP 2
: Prepare yourself a chin strap for secure and hands-free styling. This accessory gives you the freedom to use both hands without worrying about the wig sliding out of place. Moreover, the chin strap provides you with the ability to see the wig frame and your face at the same time while styling.
TIP 3
: Use a styling head in order to view and control the wig from all angles. This accessory is extremely helpful if you have difficulty in reaching up or to the back to style and comb the wig. One thing you need to ensure is securing the wig with T-pins to the foam head during the styling process.
TIP 4
: Use a stainless steel brush when styling your synthetic wig. Same as your natural real hair, your wig needs to be brushed properly before styling. However, these synthetic wigs are made of artificial fibers – as you may have already known, so they are more prone to being tangled. That is why stainless steel brushes are recommended to be used with synthetic wigs by experts. Then, you should brush your wig in a manner that aids the style which you want to have.
For curly or wavy hairstyles: Use short lifting strokes.
For smooth and straight hairstyles: Use long, even strokes.
For specific longer wigs that have ringlet curls: Use a pic comb or your fingers in a lifting motion.
TIP 5
: Only apply special formulated wig styling products onto your synthetic wig so as to maintain the artificial fibers. Avoid using
human-hair
formulated products since it can damage your synthetic wig.
2.   How to style a wig with 100% a human hair
TIP 1
: Prepare proper styling tools and caring products as below before starting the styling process.
A wide-tooth comb or a paddle brush.
Shampoo with no sulfate included.
A pair of tweezers.
A pair of small fabric scissors and a pair of hair-cutting scissors.
Styling tools such as curling irons, straightening irons, etc.
A bottle of lace tint spray.
Remember to be gentle when using these mentioned items for styling. Human hair wig is first made by harvesting real human hair. Then, each of these strands is looped through the lace in order to create a realistic hair look for wearers. If you mistreat your human hair wig, the strands can possibly be pulled out from the lace, resulting in some bald spots on your wig.
TIP 2
: Wash your wig with the prepared sulfate-free shampoo. The reason why you should use this type of shampoo is because it helps to prolong the wig's lifespan and also minimizes wear and tear. Also, you need to wait until your wig is completely dry. If you style your human hair wig when it is wet, you are damaging the construction of the wig and reducing its durability.
TIP 3
: Same as synthetic wig, human hair wig needs to be detangled before styling. Use the wide-tooth comb or the paddle brush which you have already prepared to brush your wig. Gently start at the ends of the wig and move your way up to the crown of it. This is to make sure that each section is knot-free. You should keep your hand steady when holding the wig to avoid pulling out strands from the lace. Once you finish detangling your wig, it is time for you to adjust and style it to your preferences.
Click here to know how to distinguish human hair wigs and synthetics wigs
3.   Conclusion
Proper styling tools and products will help to keep either synthetic wigs or human hair wigs looking fresh and fabulous. In other words, the answer for "
How to style a wig
?" is pretty simple if you do it in the correct way with the correct appliances.
Messi Hair
hopes that this article benefits and helps you to achieve your desired hair look. View
our blog
for further useful tips and information related to wigs.
Website: messihair.com
Tel: (+84) 973.522.855
Email: messihairvn@gmail.com
Address: Room 703, CT3B Building, Me Tri Thuong, Nam Tu Liem, Hanoi, Vietnam