Ombre is a beautiful hair color trend which has been one of the most common hairstyles for many women recently. Normally, this hairstyle smoothly transforms from 1 dark color to another lighter shade. In today's article, Messi Hair will provide you with some
ombre hair color ideas
which can totally enhance your appearance.
1.   What exactly is "ombre"?
Ombre hair color ideas
hairstyle provides you with a fabulous hair look which blends from 1 color to another. Typically, many people dye their hair ombre as a transition from dark to light. The most popular styles are more natural hues such as black, blonde, red and brown ombre.
To achieve this hair look, you will need to bleach the bottom portion of your beloved hair. In case you do not want to expose your hair to bleaching chemicals, you can still have this beautiful look with a dark ombre. Dark ombre hairstyle is normally seen as transitions from chocolate to light brown, or black to red.
2.   Why should you choose an ombre hairstyle?
Ombre is a low maintenance hair color which can give you a dramatic or subtle style depending on your choices. If you choose to go with a natural blonde ombre, you can ask the hairstylists to apply lighter ends. This will help to hide those annoying damaged ends of yours after being exposed too much to chemicals. Another reason why you should choose ombre hairstyles is because it allows you to see whether you like your new chosen color for the future. In case you get bored of it, you can just simply let your hair grow out for your next cut.
3.   Best ombre hair color ideas just for you
Blonde ombre: This is one of the most common choices in coloristic techniques nowadays. Within this example, we have a transition from brown to blonde that actually resembles a flow of rich honey blonde shades. For the styling part, this gorgeous mane is filled with many soft, bouncy waves that are versatile and appropriate for everyday appearance.
Light brown to dark blonde ombre: Right here we have a sprinkling of honey blonde highlights thrown into the fabulous mix of dark blonde and light blonde ombre locks. The way the hairstylists dyed the hair is what creates the actual ombre effect. Along with the pretty
ombre hair color ideas
, the thick long hair is styled with little curls at the ends.
Reddish blonde ombre: This appears to be one of the most common choices these days than in the past. Maybe it is due to the stunning strawberry blonde color it provides. In this example, the hairstyle is relatively straight with little waves at the ends.
Dark brown, blonde and gray: If you prefer a modern take on the ash blonde look, this is exactly what you are looking for. The right amount of edge, some brunette, ash blonde and gray tones are the elements creating this eye-catching ombre hairstyle. Moreover, the voluminous waves help to optimize the effect of the
ombre hair color ideas
.
Beach blonde ombre: This is another nice idea for
ombre hair color ideas
. When light blonde and beach blonde comes together, the outcome is marvelous. In addition, some effortless loose waves can be used to enhance the feel of smoothness and softness.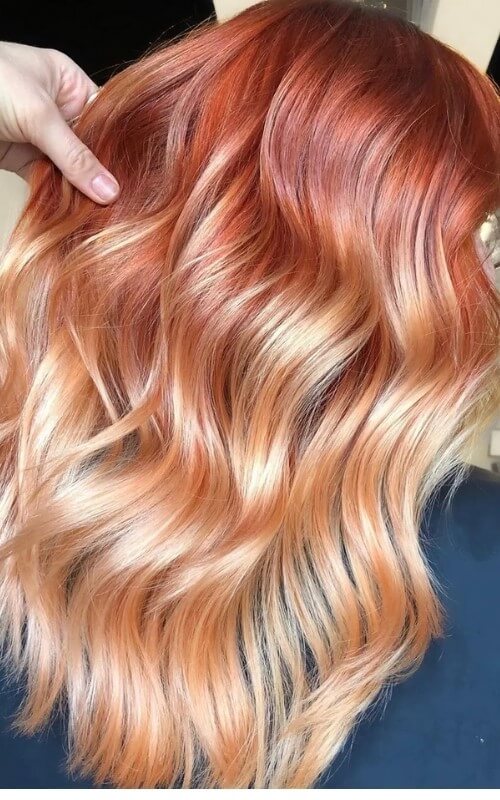 Strawberry blonde ombre: Among the
ombre hair color ideas
, this can be considered as the most sexy one. Here we have a lovely strawberry blonde hair color which changes from light auburn red into blonde seamlessly.
=>>>How to maintain hair after dyeing or bleaching
4.   Conclusion
Ombre hairstyles can certainly refresh your whole pretty appearance. If you are looking for a brand-new hair look for special occasions, these
ombre hair color ideas
can help you stand out from the crowd. In case you want some changes in the hair look without having to make any commitments, try using wigs instead. Here at
Messi Hair
, we provide customers with a wide range of choices for wigs including types and colors. Please contact us via the information below for further references.
Website: messihair.com
Fanpage: Messi Hair
Tel: (+84) 973.522.855
Email: messihairvn@gmail.com
Address: Room 703, CT3B Building, Me Tri Thuong, Nam Tu Liem, Hanoi, Vietnam