Hair coloring is one of the ways to change your look, both simply and quickly. Currently, there are many hairstyles with different hair colors. Highlight is currently a popular hairstyle and is favored by many young people. The hair color with the classic ombre style, the French ombre, the lowlight, the light in curls or the hair colors below are the most
cool color hairstyles
by highlight today.
Cool color hairstyles – Which style to dye for you?
Cool color hairstyles – Lowlight
Lowlight is the opposite of highlight. If the highlight is to dye the curls brighter for your hair, the lowlight uses the dark one. Similar to the thin layer highlight dyeing method, the barber will place alternating dark colors into your layers of light. This way helps to subdue the brightness of the hair, creating a deep color tone. Besides, this dye also helps to make your hair feel thicker, deeper and also more natural.
Ombre dyeing for your hair
Just returned to the favorite list of young people about 2 years ago, Ombre has yet to show signs of cooling off. Ombre often makes an absolute stand out, personality for the person. They can also be very gentle and elegant if you know how to choose colors. If you are a personality girl , choose an ombre with a colorful ponytail. If you follow a gentle, feminine style, choose a softer tone to create a natural and subtle look. So simple and easy to choose, right?
Cool color hairstyles – Which color to dye for you?
Once you have chosen the right hair color, you need to choose your favorite hair color. Is there any hair color that can help you become more beautiful, more personality and confident?
Cool color hairstyles – Smoky gray highlight hair
This color never goes out of fashion no matter how the fashion changes. More especially, it can be suitable for all skin types. Women or men of any age can use this highlighting hair color. It is rated by many people as the best hair color. Because of its harmony, it is widely used by everyone in all seasons over the year. Even more special is the color tone that helps women stand out with all different makeup styles.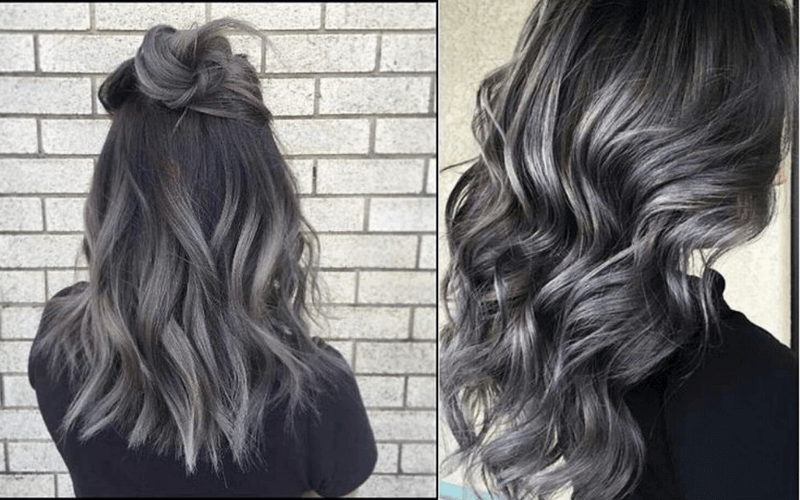 Purple highlight hair dye
Purple highlight hair is a popular choice for many girls. Up to now, it's always been a hot color and there's no sign of cooling. This hair color helps your skin look brighter. Especially it adapts to most of the different fashion styles from personality to femininity. Therefore, you can freely change the purple highlight hair color with many of your extreme fashion styles!
Cool color hairstyles – Moss green highlight
Moss green is a hot trend hair color in recent years when it is popular with young people. Especially for the stylish and cool girlfriends, do not ignore this beautiful highlight for this impressive black hair!
Blue highlight hair dye
The blue highlight hair color is a fairly new and impressive highlight that you should try. Just owning this beautiful hair will have a new and different aura that attracts all eyes on you. Especially, this is a bright color that is quite suitable for girls who pursue a strong and liberal image. Do not hesitate to change your appearance to add even more impressiveness!
Cool color hairstyles – Rainbow highlight
Most girls come to dye their hair with highlighting, choose the traditional highlight with a few colored hairs floating on the black background. However, if you get bored with this dye you can break it by using rainbow highlighting dye. This is really a good idea for those who have personality and love differences. The blending of colors that make up a rainbow makes you feel more new than ever. So, refer to this strange hair color to change your new look!
If you are worried that your hair will be damaged after being dyed or bleached, you can choose
Human Hair Wig
to have perfect hair. Moreover, there are a lot of other choices for you. You can make a wig by yourself at home Above are the most
cool color hairstyles
by highlight today that we want to share with you. Hopefully through this article you will have more useful information and choose a suitable highlight hair color! If you have any questions, please contact us via the information below.
=>>>Ombre Hair color suit with you 
Website: messihair.com
Tel: (+84) 973.522.855
Email: messihairvn@gmail.com
Address: Room 703, CT3B Building, Me Tri Thuong, Nam Tu Liem, Hanoi, Vietnam