You want to have perfect hair without going to Hair Salon? Messi will show you the way to DIY dye hair at home by yourself
How to DIY – dye hair at home?
Wash your hair before dying
You should wash your hair 24 – 48 hours before dyeing, so that hair dye products will penetrate easier, also, your hair will last longer after dyeing. You should avoid washing your hair right before you dye it, as it removes the natural oils that protect your hair.
DIY dye hair – Select products
To dye your hair, you must have the following products:
Hair bleach (for people with dark hair).
Tools: brush, plastic bowl, gloves, etc
Among them, the most important one is dyes. There are many types of permanent or temporary dyes. They are variable from color, size, price, quality… You can choose freely depending on your hobbies.
Protect yourself
All hair dyes are toxic so you need to protect your health. You should prepare these things:
An old shirt – Incase the dye drops to your clothes, just throw it away.
Shoulder shawl.
Old newspaper – In order not to let the dye scatter on the floor.
Gloves – To protect your hand skin from chemicals.
Face mask – To protect your health.
DIY dye hair – Mix the hair dye
There are instructions of how to mix dyes on the packaging of each product. Selecting the ratio is the most important. It helps you to have the desired hair color. If you have dark hair, you should bleach your hair. Some people mix bleach with dye, others bleach their hair first and
DIY dye hair
later.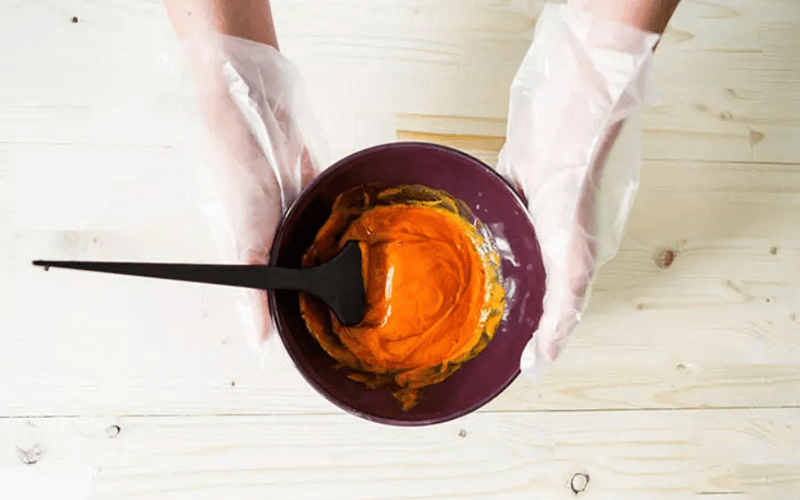 Note:
Mix dye in a plastic bowl, use a brush to mix it.
Always wear gloves during the dying process.
Removal hair and apply dye
Divide your hair into parts, brush your hair lightly in order not to make it get tangled and easier to dye. Before applying the dye to your hair, you should apply a little vaseline. Apply it to the nape of the neck, neck, hair margins and the skin of your face. It will be easier to clean after dying your hair. If you want to dye a light hair like white, smoke, or hazelnut, etc, you should bleach your hair. Apply bleach to your hair, avoiding the scalp area. Apply from top to bottom, wait for 15-40 minutes, then rinse it with water. The longer you wait, the more color up your hair becomes. If you already have light-colored hair, you can skip this step.
After you finish bleaching, apply the dye to your hair. Do the same as bleaching – use a brush and apply from top to bottom. Apply layers of hair one after another. Massage lightly with fingers to make the dye absorb faster. It is recommended to
DIY dye hair
in the bathroom to avoid scattering and make it easier to clean. If you dye indoors, you should line the floor with newspapers.
DIY dye hair – Waiting
Cover your head with a plastic hat, waiting for a while. Wrap the outside of the head with another towel to retain heat, speeding up the
DIY dye hair
process. The time coloring hair depends on the drug. You have to look at the packaging. Usually it is at least 1 hour. If you take out early, the color will not be like your desired color.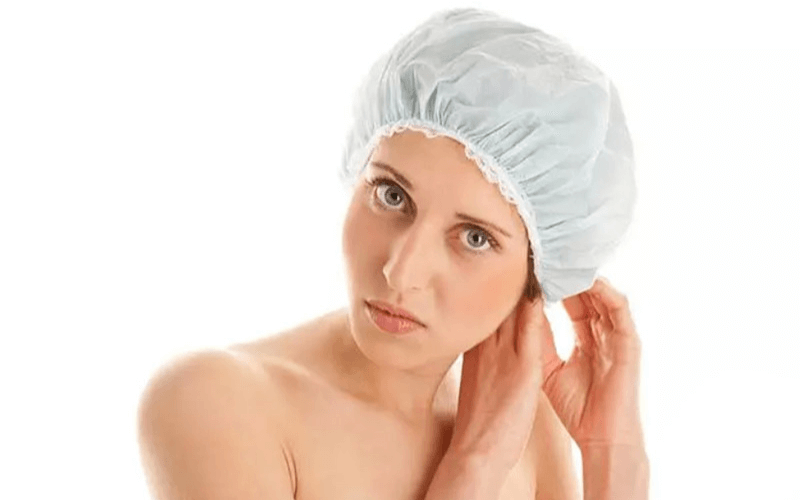 Absolutely do not leave it overnight. Not only will your hair be damaged, but your health will also be adversely affected. Do not forget it!
Wash your hair
Finally, wash your hair to remove the dye. First, wash your hair with warm water. Then, use the shampoo as usual. Next, add conditioner to make hair smoother. After washing it, dry it with a towel and wait until it dries completely, you will have your hair completely changed by
DIY dye hair
at home. Note: Try to avoid dye from getting into skin, eyes, nose, mouth. If the chemicals get in the eyes, see a doctor immediately to prevent risks.
DIY dye hair – some tips for you
The most important secret to coloring hair quickly is in hair bleaching. If your hair is dark and you use dye only, the color will not work as expected. If you have dyed your hair before, you should wait at least 2 months before the next dyeing. In addition, you can also refer to the following tips to preserve dyed hair color. For example, wash your hair with cool or cold water; choose a shampoo for dyed hair and do not wash your hair so often. So we have gone through how to
DIY dye hair
at home.
Messihair.com
hopes you can color your hair at home after reading this article. If you have any questions, please contact us via the information below.
Website: messihair.com
Tel: (+84) 973.522.855
Email: messihairvn@gmail.com
Address:
Room 703, CT3B Building, Me Tri Thuong, Nam Tu Liem, Hanoi, Vietnam