Are you struggling with the question "
How to maintain a wig
properly?". If your answer is yes, congratulations on coming to the right place! Within this article,
Messi Hair
will provide you with the 4 best tips to help you maintain and keep your wig amazing.
1.   How to maintain a wig BY shampoo, conditioner and brush?
Regular shampoo and conditioner usually contain a large amount of chemicals which may cause damage to your wig. Especially, if you are using a synthetic wig, these chemicals are extremely bad for it. Therefore, when purchasing any kind of wig care products, you should pay attention to the ingredients included in them. Make sure to buy those shampoo and conditioner which are produced specially for wigs.
In addition, there is a significant difference between hair washing and wig washing. The way you clean your wig relates rigidly to the question "
How to maintain a wig
properly?". This is because any mistakes you made during this washing process can directly ruin your beloved wig. Here is what you should do:
#1: Soak your wig in a sink of water and shampoo. Then, help the shampoo penetrate each of the strands or fibers thoroughly by brushing it gently. Remember to use a specialized brush for wigs only.
#2: Rinse the wig with warm water until the shampoo is removed completely from it.
#3: Brush the wig in order to detangle any knots or kinks, then let it air-dry. One thing you need to keep in mind is not to rub or massage the wig while brushing, since you can make the wig even more tangled.
=>>>How to revive a wig to have perfect hair
2.   Keep your wig covered
No matter what type of wigs you are using, it is essential for you to store the wig properly. When you are done with wearing it, keep it onto a mannequin head or a hook of some kind. You need to do this to keep the wig in an upright position as well as not to get tangled. Moreover, you should always cover your wig so as to protect it from dust and other environment factors.
3.   Be careful when styling the wig with products or heat
Many wigs are not prepared to be used with styling products or heat styling tools. Therefore, you need to be extra careful when you style any type of wigs. We suggest that you should not use too much spray on your wig, since it is more likely for the wig to get tangled, greasy or unmanageable.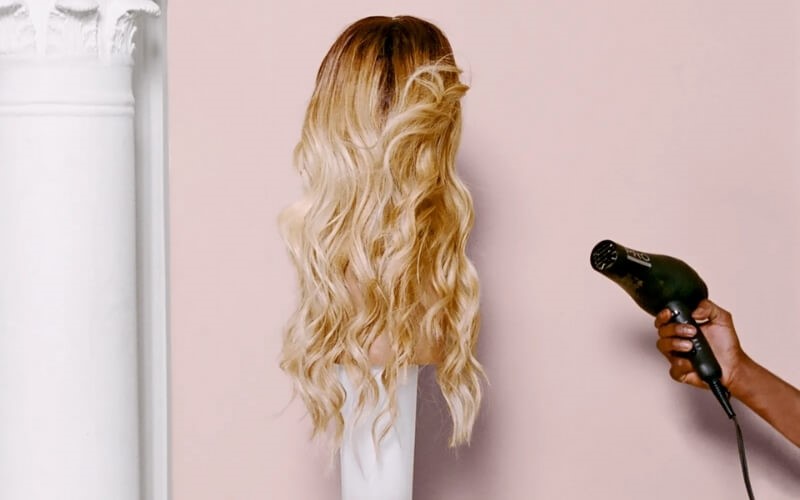 Same as your natural hair, your wig can be damaged if being exposed to heat frequently. Especially, if you are having a synthetic wig, the hot temperature from heat styling tools can destroy the artificial fibers. Eventually, your synthetic wig will be dry and tangled. Therefore, make sure to read and follow the instructions that came with your wig. By this, you will be able to figure out how much heat you can use on your wig.
=>>>How to distinguish synthetics wigs and human hair wig
4.   Do not sleep or shower with the wig on
Now, it is time for the very last tips on "
How to maintain a wig
properly?". As you have already learnt how to wash a wig, you should also avoid showering with your wig on. Moreover, take your wig off when having to go out but it is raining too hard outside. Do the same with the sleeping part if you do not want to leave your wig tangled and full of knots from moving around all night long. Just remember: The better care you give to your wig, the longer it will last.
Messi Hair
hopes that these tips on "
How to maintain a wig
properly?" are all useful to you and your fabulous beloved wigs. You can make wig on your own only with bundles of
hair weave
and closure or frontal. It is so easy!
=>>>You can make wigs with 7 steps
If you are looking for any new wigs for your collection, please feel free to visit our website or contact us via the information below.
Website: messihair.com
Tel: (+84) 973.522.855
Email: messihairvn@gmail.com
Address: Room 703, CT3B Building, Me Tri Thuong, Nam Tu Liem, Hanoi, Vietnam