What is human hair wig?
Women have always liked to change their hairstyles in order to try new and trendy hairstyles. But unfortunately, it's impossible for some women as they possess fragile and weak hair that is too vulnerable to do any treatments on. Therefore, many women turn to wigs to help them with it. Or for some other women, wigs help them conceal defects in their hair such as thinning hair, damaged hair, dry hair, …
But to buy a suitable wig which both meets your requirements, preferences and ensures its quality, naturalness is a problem that makes many customers confusing. In addition, customers will also wonder how to choose the appropriate option while on the market there are countless brands and online stores selling wigs with different styles and quality. Therefore, here's a complete guide to help you find and choose the best human hair wig for yourself.
Here are some basic guidelines to help you find the best and buy a human hair wig online. There are several factors that affect your choices like the hairstyle, the types of wig and hair color.
1.   Hair quality
Currently on the market, vendors supply wigs made with many different materials such as silk thread wigs, wigs made from synthetic fibers, wigs made from real human hair. Each material has completely different characteristics and nuances, as well as price and durability.
Synthetic wigs
This material is also quite popular to be used as wigs. This is a cheap material, so a wig made from synthetic fibers can be sold at an affordable price, starting at around $5 for a wig. However, synthetic hair wig has the disadvantage of poor naturalness, looks glossy, rough and quite stiff, it can be easily recognized that the person wearing it is using a wig. Plus, wigs made from synthetic fibers have poor heat resistance and durability and can even cause scalp allergies.
Silk thread wig
If compared to synthetic wigs, silk thread wigs feature more advantages. Because the authenticity of this material is 70% like real hair, many people still want to use it. The price of silk wigs is also quite affordable so that people with a fairly average income can still buy and use. The downside of this material is poor durability, easy to irritate the scalp and must be preserved very carefully when used because wigs made from silk thread are easy to tangle.
Real human hair wig
It can be said that wigs made with real human hair are the most sought by women who want to buy wigs. However, it must be admitted that this is a product for well-off customers, because its price is higher than wig products made from the other two materials, from $30 for a wig. However, depending on the design and the quality of the hair, there are some hair wigs made from human hair with affordable prices.
This real hair product delivers the quality that's absolutely worth its price. Specifically, the human hair wig not only offer you a natural look to the hair, very similar to real hair; but the hair's durability is also long-lasting.
2.   Wig making technology
Due to the different structure of the hat and the types of wigs, hair wigs come in different types: front lace wig, full lace wig, 360 front lace wig and many more.
Each has its own pros and cons, Front Lace Wigs are preferred because they create the feeling of natural hair.
Wig made of different materials or styles will have different production technology. Wigs are also made with clip wigs, lace wigs or hair bundles. Lace caps are the most popular for their natural hair. In addition, the hair knitting technology is also one of the important things to decide the price of wigs. Hand-knit wigs are the most expensive because they are extremely time consuming and require carefulness to make compared to machine knitting.
Human hair wig with high quality hair technology will have long-lasting durability, beautiful and natural hair quality with comfort and airiness when used.
3.   The right hairstyles for your face shapes
Defining the shape of the face is one of the important steps when choosing a hairstyle. A suitable hairstyle both enhances the facial lines of the face and conceals the shortcomings, helping to significantly promote beauty. But to do that, you need to define your face shape. Depending on the shape of the face, the task of choosing a hairstyle to help the face become slim, attractive will not be a difficult task anymore. Find out what type of face you are in and what to combine with your hairstyle. Here are some suggestions of Messi Hair on choosing the right hairstyle for each face shape.
Hairstyles suitable for oval faces:
Instead of the traditional hairstyles, possessing an oval face, you can completely choose hairstyles that break the principles of long-haired faces such as side-cuts, bangs or layered haircuts.
Hairstyles suitable for long faces:
Shoulder-length hair, Layer-trimmed lobes, Long, curly bangs, Flat bangs, .. will be the hairstyles that make your face a lot more balanced.
Hairstyles suitable for people with round faces:
The ideal choice is a hairstyle that creates a sense of balance in your face, be it a fluffy hairstyle or hair that is just off the side.
Hairstyles suitable for square faces:
The ideal choice is a hairstyle that creates a sense of balance in your face, be it a fluffy hairstyle or hair that is just off the side.
Hairstyles suitable for the heart-shaped face:
For a heart-shaped face, one of the important notes is to choose hairstyles that can make your face look symmetrical, reducing the attention on your slightly small chin.
Hairstyles suitable for diamond faces:
A great idea for a diamond-shaped face is to choose hairstyles capable of creating the illusion of a wide forehead. These can be long and layered hairstyles.
4.   Hair colors
Changing hair color is an effective way to renew yourself, but there are colors that won't match your skin and even make your appearance look worse. Therefore, it is essential to learn how to determine the right hair color for your skin. Here are 3 steps to determine the right hair color to choose the best wig for yourself:
Step 1: Define your skin tone and undertone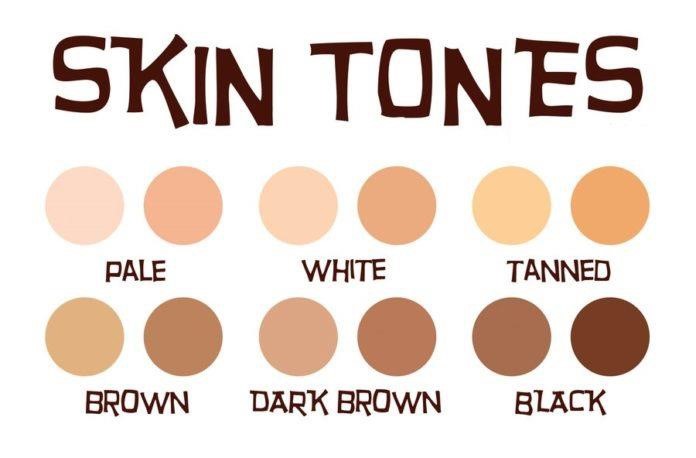 Step 2: Choose hair color:
Hair color for pink and white skin: Those who have smooth pinkish white skin, pure bright brown eyes naturally influenced by warm undertones, will always match the light brown hair color (kotori beige), orange brown. , moss brown, yellowish brown, light orange, smoky purple or ombre purple.
Blue-white skin: For those who have pale white skin, influenced by cool undertone, primitive black hair, platinum gold and red are the top choice. These three tones will contribute to turning the skin color of more fresh, vibrant rosy.
Hair color for yellow skin: who owns tanned golden skin, with warm undertones will match the chocolate brown tones, golden brown, especially the smoke color that is extremely suitable and prominent.
Hair color for healthy brown skin: Skin tones between tanned skin and light brown, combined with cool undertone, will be extremely suitable for smoky gray hair or classic black.
Step 3: Give a try
You can go to the wig shops near you to check out the wig models and gain more knowledge and check out the wig sites online. You can try a variety of real hair wigs, regardless of wavy wig, straight wig and other hairstyles to find your favorite wig.
MESSI HAIR – Get a new beautiful hair in just 1 minute!
Click here for details of all product photos!
Whatsapp / Viber: +84973522855
Email: messihairvn@gmail.com
Address: No. 10, Thang Long Mainstreet, Nam Tu Liem, Hanoi, Vietnam