If you are interested in wigs or are currently searching information about wigs, you have probably seen or heard of vendors mentioning "lace closures". Lace closures are an extremely common and convenient accessory among all types of wigs. In this article,
Messi Hair
will give you all the information you need to know about lace closures.
Lace closure and its outstanding features
What is lace closure?
Lace closures are wigs made from 100% real human hair or artificial hair wigs and fixed with double scalp top layers simulated by high-end technology, 99.99% authenticity…. Lace closures are very common because they are so reproducible compared to real hair, it is difficult to tell if a person is wearing a wig if they use a lace closure.
Lace closures are special because of the double top layer of the scalp. This is like a mesh that fixes the strands of hair together, creating almost no space between the hair and scalp, but still airy and comfortable. It helps increase the ability to style and retain natural hairline. Lace closures' double top layer of the scalp often uses a material that is sturdy and hardly causes damage to the hair. Therefore, Lace closures both give a natural look while still ensuring superior durability compared to other types of wigs.
Is the lace closure durable? – Lace closure lifespan
Is the lace closure durable? It depends on the quality of your hair and how you take care of your wig properly. High quality lace closures can last up to 2 years while natural 100% human lace closures can last up to 5-7 years. In return, the cost of a real lace closure is five times more expensive.
Top 5 most beautiful lace closures in 2021
Lace closures have a variety of models on the market today, suitable for all face shapes and ages. Below is a summary of the most popular and favorite lace closures in 2021.
Straight lace closure
Straight lace closure is one of the favorite hairstyles for many women. Combining various styles such as long or diagonal bangs will help you to cleverly conceal your blemishes. This hairstyle gives you gentleness and charm.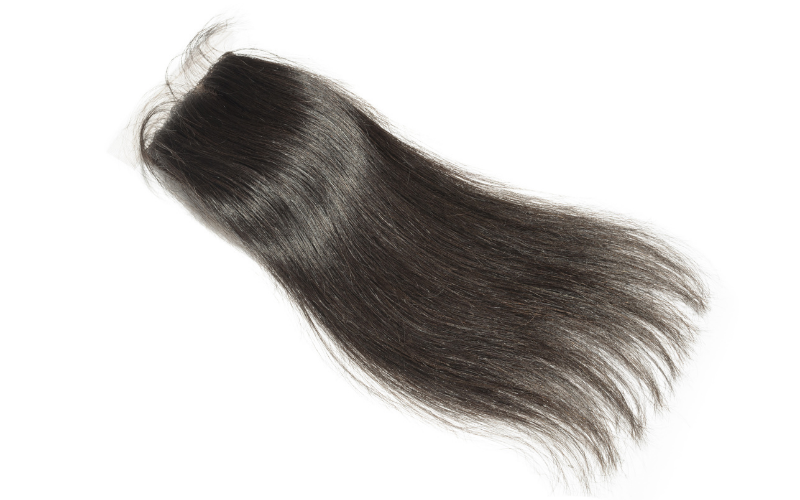 Kinky straight
The kinky straight hairstyle is chosen by many black women for its proper thickness and volatility. With this hairstyle, you should choose dark colors such as black, brown or light brown. With just 2 minutes, you can transform your sparse hair into thick and amazing.
Curly lace closure
Curly lace closure is a very popular hairstyle this year. This hairstyle gives you a sharp look, especially suitable for people with angular faces.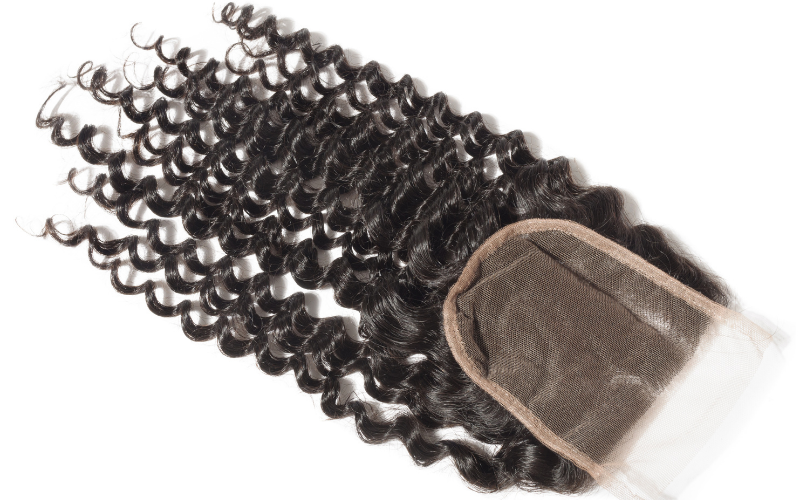 Deep wave
If you are looking for a multi-purpose hairstyle that is both suitable for work and parties, then deep wave is a better choice. Deep waves still ensure the smoothness of the hair while still being fluffy. With this hair option, you can style your hair whatever you want like a curly bun, braided updo, high ponytail or French braids.
Body wave
Body wave is Kim Kardashian's favorite hairstyle, she has appeared many times at the event with this hairstyle. This hairstyle is one of the hairstyles that bring you elegance and maturity. With silky S-shaped styling that makes your face more harmonious and harmonious. This hairstyle is suitable for all faces from round long to square angles and elegant fashion styles.
Loose wave
This hairstyle is extremely versatile because you have the opportunity to experience different styles, hairstyles, hair colors at a much cheaper cost than going to a hairdresser. Owning this hairstyle will save you time, only about 1 minute to have a completely new look. Hair is not damaged by using chemicals, bleaching dye but still fashionable and stylish.
This is the hairstyle chosen by many women when going out to participate in partying and playing activities. The very natural beautiful long wig – super nice – just like real hair – makes sure no one notices you are using a wig.
Water wave
Water wave is considered to be one of the non-outdated hairstyles that help to bring women comfort when active. With curly water waves create cute accents and help you to cleverly conceal face defects. With this hairstyle you should choose from youthful harmonious colors to add more standout and more impressive!
How to use lace closures
It is a fact that people wearing wigs will find it annoying that being noticed by other people they are wearing wigs. Are lace closures ready to use right away? Will it fit my head shape? How do you make sure your lace closure won't slip while in use? How to use lace closure? Can I do some treatments for it? … There are definitely many questions asked by customers who are new to use lace closure. So, here is our guide to use lace closure. With Messi Hair's step-by-step guide below, it will help you put on your lace closure properly and get a great look.
1. Hide your real hair
Before you put on a lace closure, hide your real hair carefully. If you have little or no hair, you will need to use a wig liner to help keep the wig safe from slipping and falling. If you have short hair, just brush it back and tuck all of it behind the brim for neatness.
2. How to wear lace closure
To fit the lace closure, tilt your head slightly forward, place the lace closure on your forehead, tuck it in like you would normally wear a shower cap. Then tilt your head upright and push the wig backwards until it aligns with your natural hairline. Use a wide-tooth comb to comb back the hair that is still loose and not ruffled. Add a few lovely accessories to the hair to make the hair shimmering as much as possible. If you buy a lace closure wig with 100% real hair, it is possible to style it before wearing. But it is recommended to limit the use of hot styling tools because it will cause damage to the hair. And for artificial lace closure, you can still style with a wide tooth comb or a dedicated wig brush. Lace closure are very versatile, allowing women to flexibly change their hairstyle like with their real hair, at an affordable price. Don't forget to check out the
latest Messi Hair's HD lace closure collection.
Do not hesitate to contact us to get big discount for first order
Whatsapp/Viber: +84973522855
Email: messihairvn@gmail.com
Address: No. 10, Thang Long Mainstreet, Nam Tu Liem, Hanoi, Vietnam