In the hairdressing industry, bleaching hair is known as a chemical dye technique which strips the color from your hair. If bleaching hair is what you would like to do to change your look, please have a look at the article below. Messi Hair will provide you with the three most important things that you should know before bleaching your hair.
1.   Prepare before bleaching hair
Within the process of bleaching hair, an oxidative agent will be used to dissolve your hair's natural melanin. The longer it stays, the lighter your hair will become. If this process is done incorrectly or carelessly, bleaching can lead to disastrous results for your hair. For example, breakage, burning and discoloration. In order to prevent your hair from being damaged, you need to start preparing it months in advance.
According to experts, you should not process your hair for at least three months before bleaching. This is due to the fact that bleaching works best on virgin or unprocessed hair. If you have your hair undergone intense hair treatments such as curling or straightening, then immediately bleach it, it will be more susceptible to damage.

Also, you should not wash your hair right before the bleaching process. This is due to the fact that it is better for your hair to be a little bit oily while bleaching. Therefore, do not wash your hair for two or more days before the appointment with the hairstylists.
2.   Manage your expectations
If your current hair is black or brown, one round of bleaching will not be able to give you the bright blonde one. Therefore, the hairstylists will have to do multiple rounds of bleaching in order to meet the needs of yours. Unfortunately, bleaching too many times can leave your hair extremely damaged.
Before bleaching hair, you should not put your expectations too high. Instead, you should do some researches to determine whether your desired shade is possible or not.

If you have dark hair, the thing you need to do is planning to space out your bleaching sessions over the course of several months. That means a blonde hair color will not be instantaneous as you want it to be. It even takes years for many people to achieve their desired hair color.
In addition, anyone with extremely damaged or fragile hair should proceed with caution. You may have visions of yourself with an amazing lighter hair, but some hair types cannot handle the bleaching process. Therefore, bleaching is likely to delicate the strands of yours, which is not worth the risk.
3.   Consider the bleaching hair process as an investment
If you are thinking of a diy bleaching process at home with the hope of cutting down the costs, you may need to spend time reconsidering your decision. Bleaching can pose risks to the healthiness of your hair, in other words, any careless move can turn your hair into a disaster. Therefore, it is worth spending a little extra money to ensure the process is done properly.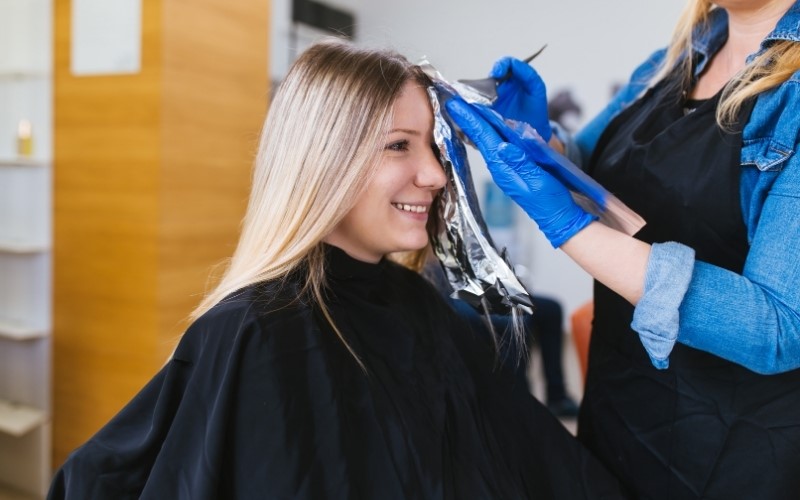 After being bleached, your hair will be much weaker, so extra care is extremely needed. In other words, hair care products are also a part of this whole process. Many of them are designed specifically for preserving and prolonging bleached hair. Consequently, it is great to make sure that you can afford as well as access high quality hair care products.
>>>Human strongest hair for bleaching hair to light color?
Above are things you should know before bleaching hair. Although the whole process is quite expensive, it is a worthy investment for your brand-new hair look if you have it done with proper techniques and care.
If you want to refresh your hair color, but too afraid of having it bleached and dyed permanently, try on a wig. Here at Messi Hair, we provide customers with the diversity of wigs from styles to colors. Please contact us via the below information if you have any request or for purchasing.