The kinky curly weave bundle is one of the most popular styles on the market of
hair extensions
. However, there is a downside that all wig wearers acknowledge that the kinky curly hairstyle is considered to be the most difficult to manage and maintain. Because of its fragile and brittle properties, this fluffy hairstyle needs plenty of moisture and should be constantly moisturized to maintain healthy and beautiful. There are 2 kinds of kinky curly hair, each is curly in a different shape: it's either shaped like an "s" or a "z". These two hairstyles are more fragile than straight hairstyles and even easy to lose its shapes. Therefore, if it isn't handled with care, they can be easily damaged after just a few uses.
How to maintain bunldes of kinky curly style?
1.    Using shampoos for curly hair
Your wig/ hair bundles or hair extensions are not necessary to be washed regularly like your own hair, but at least wash it once a week. For kinky curly hair weave bundles, using shampoos for curly hair is a way to keep them durable and help to maintain their shape and curly texture of the curls. We recommend using a small amount of shampoo with warm water, gently washing from scalp to the hair ends.
2.    Comb for curly hair
Choosing the right comb for bundles of kinky curly style helps to reduce frictional damage to the hair, keep the softness and untangle hair. For kinky curly hair weave bundles, you can use the following combs: wide-tooth comb, tangle teezer, or the styling brush to style according to the curling of bundles.
Beside that, you can brush the hair of the bundles with your fingers: Combing fingers through hair to untangle. But do not always comb the bundles this way, especially when they are dry, wash them with warm water before brushing. When the hair is wet, the curls will bounce back. Also note that you shouldn't brush your hair too often because brushing the hair too much will cause the hair to become frizzy and damaged.
3.    Air dry your bundles
Hair dryers are very handy as they dry out quickly after every wash. However, we all know heat styling causes damage to the hair so that's why you should avoid using hair dryers for your bundles.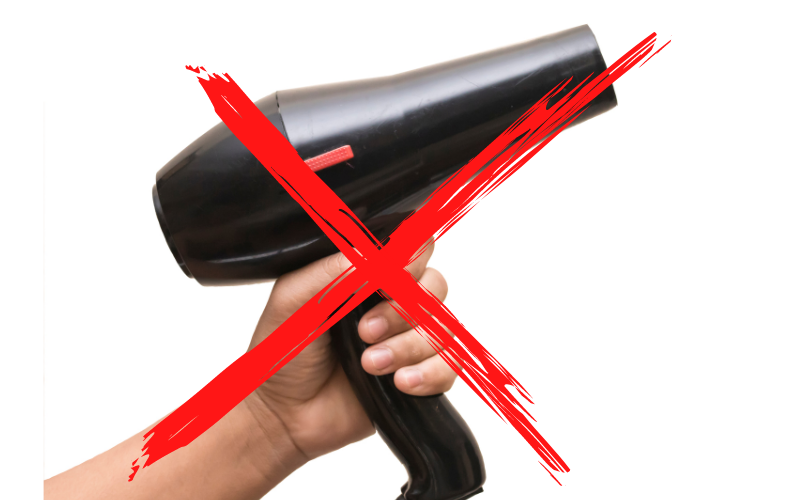 There are 2 other ways to dry your hair weave bundles after washing them:
Towel dry: Towel drying isn't the best option; but if you decide to use this method, make sure to use a microfiber towel to dry the weave bundles. First, squeeze or shake off excess water to make the drying process easier. Gently dry the hair and do not rub the hair to avoid friction and static electricity.
Air drying: Unlike the hair on our heads, hair weave bundles can be much easier to be air dried, because you can take them off and hang up, and don't have to be afraid of wet clothes or headaches from the wet hair.
4.    Nutritional supplements for the hair
Because the hair bundles are made from real human hair, you can take care of the them with natural oil to keep the curls properly hydrated. Find a good natural oil product like argan oil to prevent hair from drying out and also give your hair a healthy glow and shine.
5.    Moisturizing for kinky curly hair weave bundles
All curly hair is prone to continuous drying, which is why it's important to moisturize the curls of your bundles. After applying moisturizer, you should apply oil like Argan or coconut oil, it helps to keep moisture in your hair for a long time. But don't apply too much moisturizer or conditioner, only a small amount will work. Applying too much moisturizer will cause greasy curls and oily hair will attract dirt.
Avoid alcohol products as it increases the dryness of the hair. For hair weave bundles made from human hair, deep moisture is needed to give you the fluffy and mess-free curls you want. The right moisturizer will keep your hair hydrated the most.
6.    Using wig care services
Just like your real hair, the hair weave bundles can also be permed, colored, accentuated, straightened, curled, washed, and dried…
If you are too busy or don't believe in taking care of your wig yourself, you can bring them to a wig care service. But remember to find reputable wigs, they will help keep the hairstyle, care for it, restore it.
Use natural hair masks
Hair mask helps to hydrate, soften and make the hair more shiny. You can use hair masks made from natural materials. Some masks that help hair recover quickly, such as avocado masks, you just need to puree an avocado then mix the above mixture with eggs (use both yolks and white) and olive oil.
Apply the mixture evenly from hair tips to hair roots, wrap a towel or cap to incubate your hair for 20-30 minutes. Note that you should wash your hair with warm water first to completely remove the mask from your hair. Then use the shampoo and rinse with cold water. You can also use a papaya + yogurt, honey or banana puree mask to incubate your hair. These natural masks are so easy to make and effective, you will be surprised by their use after 2-3 times.
8.    Polish your hair weave bundles
Hair polisher helps to keep the hair of the bundles shiny and curled, while creating a cover that shields each strand of hair from negative environmental influences such as dust, as well as protects the hair color always maintained and healthy.
Using hair polisher to keep the hair shiny and curled
Use the Hair polisher after your hair has been washed, apply the hair polisher from the ends to the hairlines. Then let it dry on its own.
Conclusion
All of the above – unless you choose to do salon services, do it at night to allow time to dry your hair overnight, or let your wig "rest" before you put it on when going out. Hopefully with the tips of Messi Hair, you will be able to take care of your hair so that they are always beautiful and long-lasting.