If you want to refresh yourself, look no further than these below top trending
short haircuts for female
in 2020. They will definitely fill you with the new inspiration for the upcoming year. Read this article to find out some interesting ideas suggested by
Messi Hair
for your new haircuts.
1.   The pixie cut – Short haircuts for  female
Whether you are bored with having a typical short haircut or want a change from a long one, a pixie cut is classic for a reason.
With this pixie cut, you are likely to feel like a weight off your shoulders. Moreover, you will no longer have to spend too much time on blow-drying and styling your hair as before. With little effort needed, you will still look fashion in your casual hairstyle. In addition, this is one of the
short haircuts for female
that can effectively enhance their look. It will help to frame your face as well as emphasize the sexiness of your cheekbones and collarbones. If you want to refresh yourself with an active look, try having your hair in a pixie cut.
2.   The French bob
Refreshing yourself with a French look, why not? Traditionally, hair which is cut at the mouth line and accompanied by a straight, brow-skimming fringe is called French bob. However, the modern version of this haircut is a little less rigid than before. The length of a French bob haircut can dip down to the collarbone or right up to the cheekbone. This definitely depends on how you like your hair to be.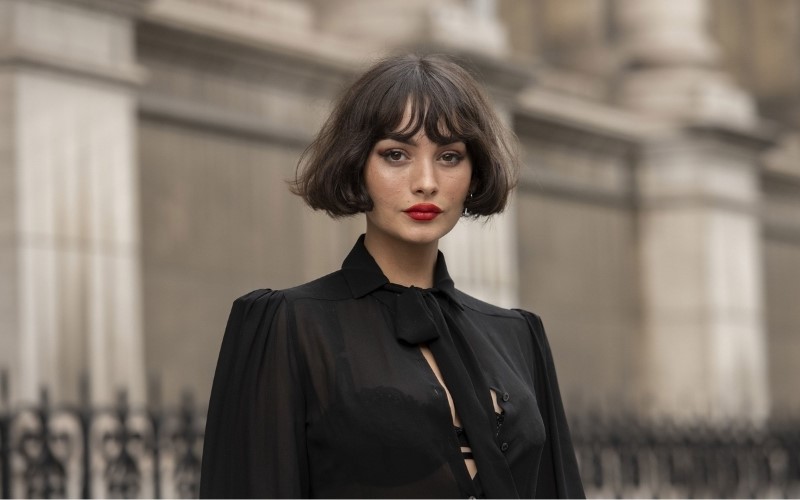 French bob haircuts can also bring you and your look various benefits. Firstly, same as other short haircuts for female, it saves you time on blow-drying. Secondly, if your hair is damaged after some hairstylings and treatments, this can be considered as an opportunity to get rid of it. Last but not least, French bob haircut requires low maintenance. In order words, you will not have to spend too much time on thinking how to style your hair everyday.
3.   The curly bob – One of the most common short haircuts for female in 2020
The curly bob is somehow like the other
short haircuts for female
which is mentioned above. The only difference which distinguishes this haircut from the others is the curly part. A curly bob is a type of haircut for women whose hair is naturally curly or the ones who added curls to their straight hair.
There are many types of bob that can work well with curly hair. For example, inverted curly bob, angled curly bob, A-line curly bob, etc. One key to remember is ensuring that your hair is in the right shape for natural curls.
4.   The blunt bob
A blunt bob is described as a shorter hairstyle that is cut into a straight line at the ends. Blunt bob becomes one of the most popular short haircuts for women because of its edginess and sophistication.
This type of haircut is recommended for women with oval, square or heart-shaped faces. It is also known as a super customizable and versatile cut which can fit any type and texture of hair. The bluntness of the ends emphasizes the jaw area as well as brings a strong and flattering look to the ones having it.
5.   The asymmetrical bob
An asymmetrical bob is an uneven haircut, which means that one side of the hair is longer than the other. This can be considered as an all-time fashionable
short haircuts for female
. It fits perfectly to all types of faces as well as hair texture without needing too much maintenance. If you are bored with classic bobs, you can add some flavor to your hair by having an asymmetrical bob. If you want to change your hairstyle usually, cutting your hair seems not to be the best way. Then, you can consider wearing a
Natural wig
made from 100% Human Hair
>>> How to create a new beautiful wig by yourself
Above are 5 common
short haircuts for female
in 2020 which
Messi Hair
suggests to you. In 2021, you can try refreshing your appearance with one of these hairstyles since none of them are going to be obsolete.
19+ Styles suitable for wig making
Here at
Messi Hair
, we provide customers with various choices for wigs. Visit our website to view our products and see more up-to-date information in hairstylings published by Mess Hair.
Website: messihair.com
Tel: (+84) 973.522.855
Email: messihairvn@gmail.com
Address: Room 703, CT3B Building, Me Tri Thuong, Nam Tu Liem, Hanoi, Vietnam