Lace front wigs are one of the most beneficial beauty accessories for women, including many celebrities and top Hollywood stars. The special feature of this wig is that it offers a natural, real look to the wearers. Lace front wigs can help transform hair the fastest, most natural and easy to use.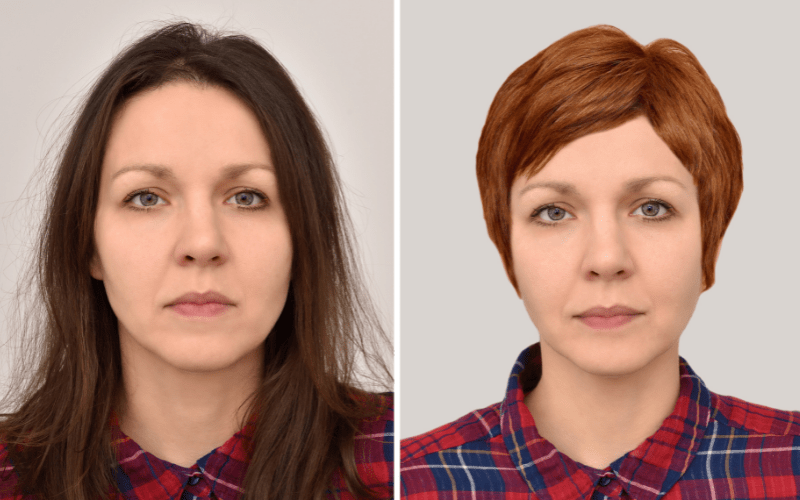 In acting, the actors wearing wigs help them get the look of the script without the need for hair styling, haircut, or hair treatment. This both helps the makeup process quickly and does not harm the actors' real hair.
So what is a lace front wig and why does this wig look as natural, flawless as real hair on our heads?
What is Lace front wig? How to use?
Lace front wig is a wig with a scalp made of lace. This lace not only acts as the scalp, but also helps fix the hair on the wig. The lace front wig has a lace section that looks a lot like your real scalp, so the lace front wig looks very natural because of that. Every new lace front wig offers a large piece of lace, so when you use it you will have to cut a little.
Instructions on how to wear lace front wig
Step 1: Preparation: To be able to wear the wig naturally, when you put it on you need: Wig, wig cap, hairpins, a mirror.
Step 2: Put on a wig cap and use a hairpin to tidy up your hair
Step 3: Once your hair is neatly in your wig cap, take your lace front wig on. Before wearing it on, cut off excess lace so that it is closest to the hairline, but not too close to the hairline which will cause hair loss on the wig.
Step 4: Stick the tape to the scalp to fix the wig on your head.
Step 5: Wear the wig. Note that when wearing, keep your hands underneath the wig, use your hands to pull the hair down to the head.
Step 6: Adjust the hair on top of your head and comb the hair again.
Step 7: Look at yourself in the mirror to see if you need to make any adjustments. If it looks OK, you're done.
So now you have new natural and very beautiful hair.
How to preserve lace front wigs
If the wig becomes dirty due to dirt and sweat, you can wash it with water and hair shampoo
Let the wig dry naturally after washing your hair
You can use stretchers to straighten or gently bend, press ruffled
Lace front wig's benefits
Used to conceal hair defects
Lace front wig is very versatile. One of the benefits of lace front wig is a very good concealer because as mentioned above, this wig has a lace that looks very much like a real scalp. People with baldness, thinning hair, or hair loss will definitely love the lace front wig, and it will be a great beauty weapon for them.
Change to favorite hairstyle in the blink of an eye
There is no need to go to an expensive salon, you do not have to curl your hair to create a hairstyle that both harms your hair and takes time, it takes less than 5 minutes to have a new hairstyle. That's why lace front wigs are so popular with Hollywood stars, they can confidently attend events or appear in public with their new hair every day without fear of damaging their real hair.
For a natural look like real hair
Although its price is expensive, the lace front wig looks very similar to real hair. The other person won't notice that you're wearing a wig if you don't tell them. You can also style your lace front wig such as curling, coloring, hair highlighting, …
Easy to clean
This kind of wig is easy to clean without fear of damage. If you know how to care and preserve it, you can use lace front wig for up to 7 years.
Easy to use, does not irritate the scalp
Lace front wig is one of the easy-to-use, non-irritating wigs for the scalp, very airy, of course depending on the quality of the wig. It is important to know where to buy the best lace front wigs with high quality and good customer policy. If you are interested in this kind of wig and want to buy it, keep reading.
Where to buy best lace front wigs
Currently, on the market there are many vendors selling wigs with different materials and different quality. New people find it not easy to find a quality wig around them, when buying wigs online, it is even more difficult to verify product quality. Understanding customers' concerns, Messi Hair is one of the vendors selling quality wigs with a very beneficial customer care policy.
MESSI HAIR – SPECIALIZED IN SUPPLYING LACE FRONT WIG AND OTHER HAIR WIG PRODUCTS
Changing hairstyles according to new trends or to conceal your hair defects (baldness, gray hair, hair loss) becomes easier than ever thanks to lace front wig – wigs with scalp exactly like real one. The hairstyles have many designs for you to choose from or you can order according to your own needs:
Real hair products processed and manufactured with scalp exactly like real skin, you can style and part hairline as you like;
A wide range of wigs for both men and women;
Suitable for all hairstyles and heads of customers;
With special design to absorb sweat, not get hot and cause sweating;
Customize cutting, styling, dyeing … according to customers' requirements;
Light, cool, and non-irritating and as pressing as nylon hair.
You can check out some of the hot wigs here
>> Click here to see lace front wigs for women
>> Click here to see lace front wigs for men
Please contact us for advice on choosing the most suitable wig for you!
Whatsapp / Viber: +84973522855
Email: [email protected]