Wig is a useful thing in our daily life and each of us should own at least one wig. So have you ever wondered about wig care routine? It's really important to take care of your wig properly. Only do this can your wig quality be maintained. Here are some kinds of
wig brushes
and how to choose the right one.
Wig brushes – What is it?
The brushes that we use in our daily life are too austere for a wig. These normal brushes will stretch and pull out our wig strands instead of brushing through it. Therefore, wig brushes happen to solve problems caused in the brushing wig process.
=>>> See more how to brush a wig
Wig brushes – How to choose the right one?
Many stores sell wigs that go together with accessories, such as: combs, brushes, hairspray and caps. A wig brush helps to shape your wig in the correct style. The best wig brush is specially designed for wigs, with the design of teeth or bristles that can easily go through the wig strands. Here is how to choose the right wig brush for your wig!
Avoid brush designed for real hair
When choosing a wig brush, one of the most important factors is avoid brushes, which are designed for real hair. All the regular brushes are designed with a softer texture than our natural hair. Therefore, using these brushes for our wig can break its fibers, stretch or damage it. If the brush bristles are too soft, it may not get well between the strands enough to styling the wig well in any cases.
Choose a wig comb instead
Though a wig comb is not a brush, it is one of the most popular women's choices whenever they need a wig brush. A wig comb will be gentle with your wig strands and it allows your wig to be brushed without being damaged.
Moreover, a wig comb is often smaller, so it offers you a better control. This kind of
wig brushes
also easily untangle your wig. You can put it in your handbag and quickly fix up your wig. Wig comb is such a great idea for wig's users!
Choose the metal bristles brush
Many people do not want to use a metal bristles brush on their head, however, this design is a good idea for most kinds of wig. This kind of brush can easily untangle and go through your wig so it is extremely good and useful. This brush is manufactured to prevent dragging your wig and protecting your wig fibers. This brush is great to style your wig as it is much better than a normal comb and it helps you to create a wonderful smooth look.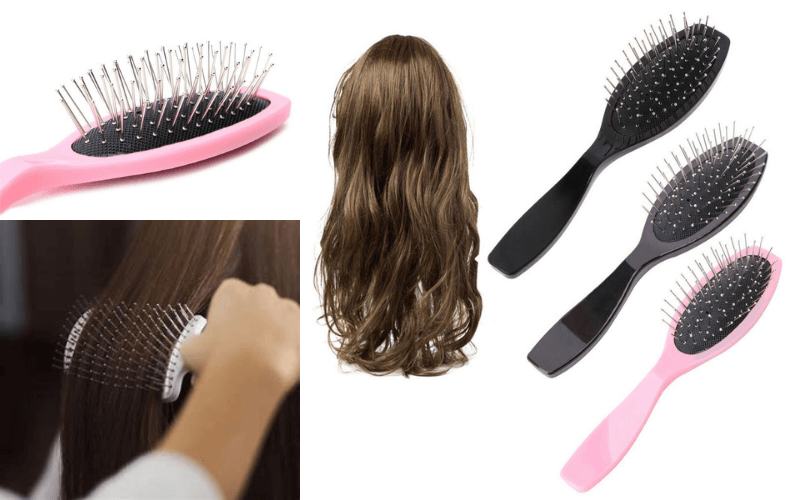 Use human hair brush for human hair wigs
This kind of
wig brushes
is specially manufactured for human hair wigs. Human hair brush helps to protect, take care of and style a human hair wig. Even if you want to detangle, add volume or style your wig, a human hair brush can solve all your problems and successfully achieve.
In general,
wig brushes
will bring advantages when you wash your wig before brushing. You may not need to wash your wig regularly, however, the wig style may be affected after they are. When your wig is dry, you had better use a wig brush rather than a wig comb to detangle and shape your wig back to its proper style. All the above are the information about
wig brushes
and how to choose the right one. Messi hopes that you have more useful information in the wig care routine. If you have any questions, please contact us via the information below. Website:
messihair.com
Fanpage:
Messi Hair
Tel:
(+84) 973.522.855
Email:
[email protected]
Address:
Room 703, CT3B Building, Me Tri Thuong, Nam Tu Liem, Hanoi, Vietnam