Human hair wigs are created by harvesting natural hair. Therefore, it is somehow the same as our real hair. One of the most annoying problems with hair is obviously tangling, since it makes the strands unmanageable. Understanding your concerns, Messi Hair will provide you with some useful tips on
how to detangle a human hair wig
.
1.   Materials for how to detangle a human hair wig
Brush: When questioning how to detangle a human hair wig, comb is probably one of the very first things that comes to our mind. There are various types of brushes that will help in prolonging the life of your human hair wig. If you want to detangle your wig properly, you need to invest in the right brush or comb. It helps to ensure that you will not damage the wig while brushing. We highly recommend a wide paddled brush which is best on both wet and dry human hair wigs.
Leave-in conditioner: When it comes to finding the right conditioner, you should ensure that it is hydrating. A hydrating conditioner means that it has enough water to product ratio, so that your human hair wig will never dry out. Therefore, you should always take time to consider the ingredients at the back of the packaging. Besides hydrating, you should choose a conditioner which is paraben-free and sulfate-free, since these ingredients are harsh on the wig.
Spray bottle: You will need a spray bottle in order to apply the conditioner or other wig care products onto your human hair wig.
A wig head or stand: It is essential to place your human hair wig on a stand, because it will be easier for you to comb through from roots to ends. This tool is especially vital in case you are having a very long human hair wig.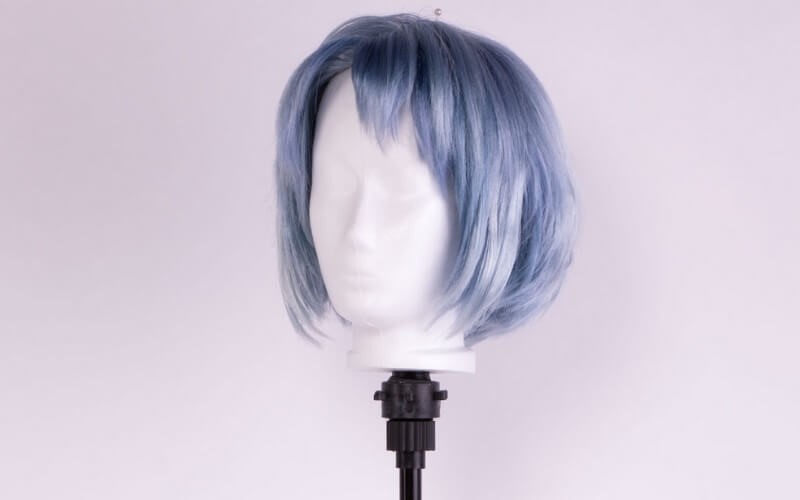 =>>>99+ Best Styles of hair weave to make perfect human hair wigs
2.   How to detangle a human hair wig? – Step by step
STEP 1: You ought to start the whole process with the action of soaking your human hair wig in a sink full of warm water. After around 5 to 10 minutes soaking, wring out the excess water from the wig. In addition, you can wash your wig by adding a few drops of shampoo to the warm water. If so, make sure that you rinse the wig thoroughly with clean water before heading to other steps.
STEP 2: Secure your human hair wig on the wig head or stand which you have already prepared. In case you do not have one, just simply lay your wig on a counter or tabletop.
STEP 3: It is best to prepare a good mixture of conditioner which makes your human hair wig softer and more manageable. First of all, fill your spray bottle with about a quarter of room temperature water. Secondly, add in an amount of conditioner until the spray bottle is 90% full. Then, you should stir or shake the bottle well so as to mix the water with the conditioner. Spray some of the mixture onto the bottom tips of your human hair wig. This is to ensure that your wig is not full of split ends or dry tips.
STEP 4: It is time to use your specialized brush or comb. Slowly brush out the knots and kinks, start from the roots to the ends of your human hair wig. Remember not to rush this process, since it can make the tangles worse.
STEP 5: When finishing brushing out all the tangles, rinse it out lightly by spraying clean water onto it. Do not soak the wig fully, as you can wash away all of the conditioner.
STEP 6: Lastly, let your human hair wig air-dry for several hours.
3.   Conclusion
That is all for today's topic: "
How to detangle a human hair wig
?". Once you detangle your human hair wig, your wig care routine will be a lot easier to manage. Follow these tips and you will be able to have a tangled-free wig, which is a perfect way to prolong its lifespan and keep it fresh.
=>>> Know more how to detangle a synthtics wig
View
our blog
for more useful tips related to how to detangle a human hair wig. Also, contact us via the information below if you have any further questions or requests.